Gift Bundles
Are you enjoying a little retail therapy or shopping for a gift? Check out our bundles to max out your savings. Feel good while sparing your wallet and helping the planet with sustainable options. All orders will be seasonally shipped and packaged, plus receive a discount on any accessory.
head to toe bundle

head to toe bundle

Parrotfish

Regular price

$47.90

Sale price

$38.32+

Unit price

per

total care bundle

total care bundle

Parrotfish

Regular price

$79.75

Sale price

$63.80+

Unit price

per

seasonal soap bundle

seasonal soap bundle

Parrotfish

Regular price

$13.90

Sale price

$11.12

Unit price

per

shower steamer bundle

shower steamer bundle

Parrotfish

Regular price

$50.00

Sale price

$40.00

Unit price

per
Hair Care
Elevate your hair care routine with our eco-friendly shampoo and conditioner bars designed for all hair lengths and types. Explore the natural beauty of your hair with our premium Argan Shampoo and Conditioner Bars, enriched with nourishing argan oil. For a refreshing experience, try our invigorating Peppermint Shampoo and Conditioner Bars, perfect for daily use and safe for chemically treated hair. Discover sustainable and rejuvenating hair care at its finest.
Body Care
Indulge in a sustainable self-care experience with Parrotfish's premium soap bars and exfoliants. Choose from our zesty Lemon Lychee or calming Lavender Teak soap bars, or try our refreshing Coffee Clementine exfoliant for silky-smooth skin. Our eco-friendly body care products are crafted with care and reduce single-use plastics, making your self-care routine guilt-free and eco-conscious. Save 30% on water consumption compared to liquid soap.
Self Care
Elevate self-care with our shower steamers - Eucalyptus Tea Tree or Chamomile Blossom. Invigorate with eucalyptus and tea tree or relax with chamomile and lavender. Thoughtfully crafted for gradual release of therapeutic vapors, these steamers create a spa-like experience promoting well-being.
Accessories
Elevate your self-care with Parrotfish's eco-friendly accessories. Explore our sustainable shower poufs, soap dishes, savers, combs, and more. Crafted for eco-conscious living, our accessories enhance daily rituals with minimal environmental impact. From natural loofahs for gentle exfoliation to soap savers that prolong bar life, these essentials blend sustainability with self-care. Shop now to elevate routines while reducing your ecological footprint.
"If you've been searching for a solid shampoo soap bar that doesn't leave your hair too oily or a weird texture, THIS IS IT."

"I'll admit I was wary of how sudsy a bar of shampoo could be. It foams up with such a tiny little bit and washes even the densest of pomades off so well. I couldn't be happier."

"This shampoo bar has quickly become essential in my routine. Moisturizing, cleansing, and gentle on my hair! Plus, vegan is always a win in my book!"

"This is my very first time using a shampoo bar and I love it! I was hesitant at first because I have dry curly hair, but this did not dry not hair out at all! It lathered up just like my normal shampoo."

"I love that I can get argan oil from this bar vs. buying additional oil for my hair. It's wonderful that it is plastic free as well."

"Simply a fresh clean scented soap that works into a nice lather. It keeps me fresh and smelling great all day!"

"I am obsessed with this bar! It makes my face squeaky clean and gives it a natural glow – even when I put keup and moisturizer on!"
Press
"Parrotfish shampoo bars convinced me to ditch my plastic shampoo and conditioner, and I'm never looking back. These solid hair washes skip out on the plastic completely, promising all the benefits of traditional shampoo and conditioner, without the waste."

"Parrotfish's Argan Shampoo Bar wins the spot for best shampoo bar due to its ability to hydrate and heal several hair types. The concentrated shampoo prevents frizz and breakage in addition to boosting shine."

"For the best beauty launches of September, Georgetown alum Katie Pearson developed two luxurious cocoa butter and coconut-based shampoo bars rich with argan oil and peppermint to cleanse hair and feed it essential minerals to keep locks healthy."

"Want to treat yourself to an everything shower but not sure where to start? I like to set the scene with things that soothe me for a spa-like evening and throw in a shower steamer or two, I like Parrotfish's Shower Steamers."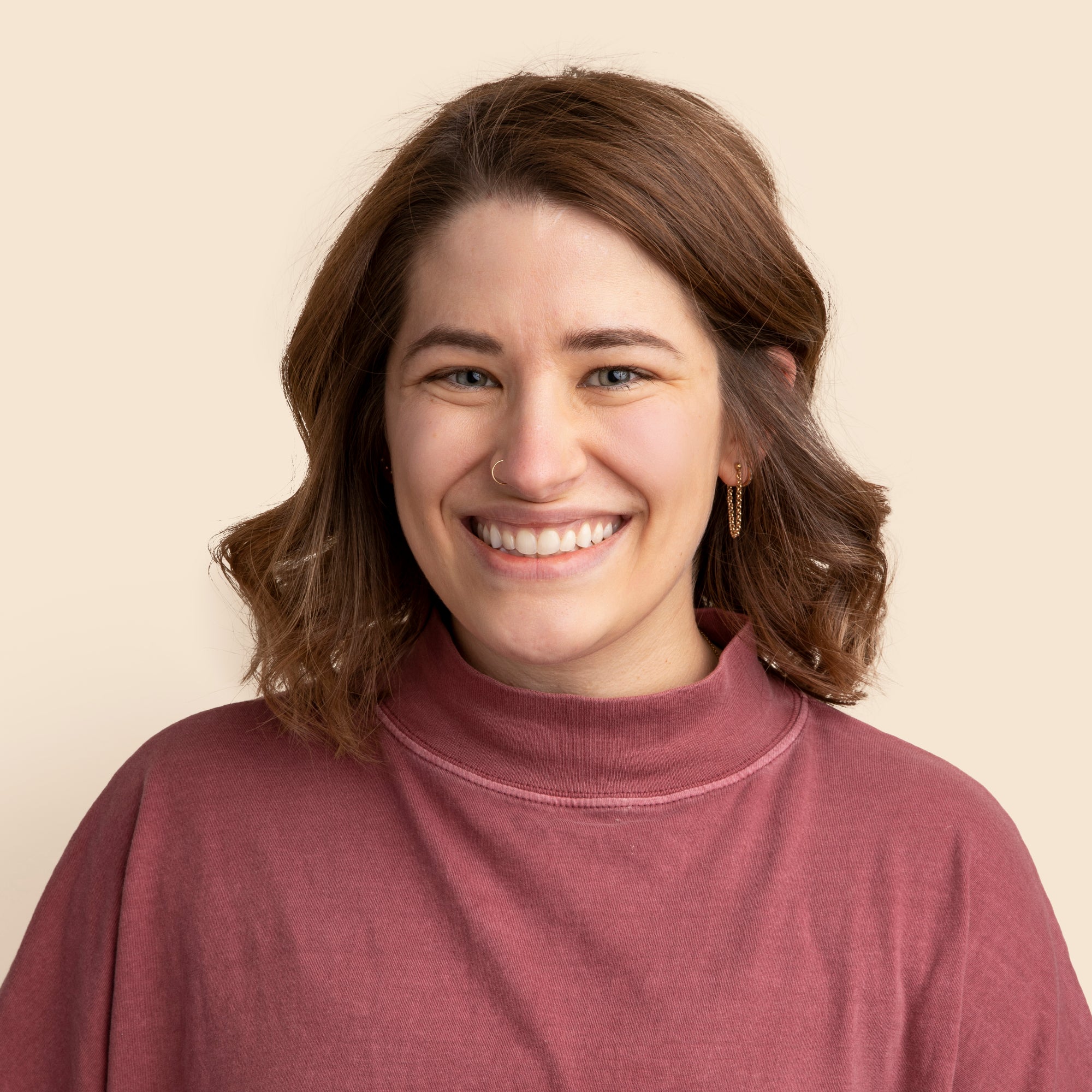 The Founder
Parrotfish was founded by Katie Pearson Fucci, who started her plastic-free journey while working at National Geographic. Upon deciding to switch to plastic-free, none of the products excited her, or there was a lengthy adjustment period. As a response, Katie built Parrotfish by combining her love for artistry, the environment, clean ingredients, and self-care into a unique and meaningful experience for others. Sustainability is at the core of Parrotfish's brand identity. Katie pours her heart and soul into every aspect of the brand, from the carefully selected ingredients to the artistic presentation of each product.

We are committed to minimizing our environmental impact and positively contributing to the planet. By eliminating plastic packaging and harmful ingredients, we strive to reduce plastic pollution, protect biodiversity, and mitigate deforestation. When you shop with Parrotfish, you support a small business with a vision, a mission, and a commitment to make a positive change in the world.